Mykonos Pelican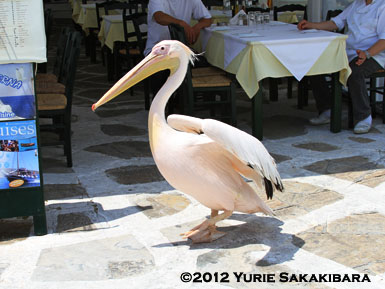 Mykonos island's mascot pelican.

The Pelican is an integral part of Mykonos island, Greece.

In 1958, a Mykonian fisherman rescued an injured pelican and named him "Petros." He became a mascot to the island - until he died in 1986.

Jackie Kennedy-Onassis donated another pelican to the island, and later another 2 pelicans ended up on the Island.

I don't know if this pelican is Jackie O's donation or not... but it's certainly cute!
ギリシャ、ミコノス島のマスコット、ペリカン。
ペリカンが島のマスコットになったのは、1958年に島の漁師がケガしたペリカンを助けたことに由来する。ペリカンはペトロスと名づけられ、島民や観光客に可愛がられたが、1986年に交通事故で亡くなった。
島民の悲しみを知ったジャッキー・ケネディ・オナシスさんが、島にペリカンを寄贈。後にさらに2羽のペリカンも加わり、今は3羽のペリカンが訪れる人に愛嬌をふりまいている。
写真のペリカンは、ジャッキーさん寄贈のペリカンかどうかわからないけど・・とにかく可愛い!